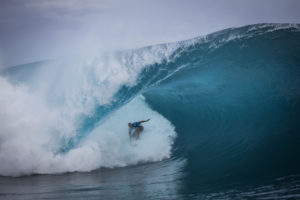 Conviction—Kelly Slater's Anti-Gravity
---
I.
I want to write something about Kelly Slater.
I also want to keep writing about myself.
I believe in conviction. I believe that having conviction in my choices, in my life, and in my self is an invaluable asset.
II.
I was out surfing at Ho'okipa this summer, at The Point, which is a peak at Ho'okipa that lies on the western side of the north-facing Maui beach. Ho'okipa is one of the best and most consistent waves on Maui. The Point is primarily a right, but there is a left that sometimes breaks on or near the peak called The Point, and this left is called Green Trees. I paddled out to find Dusty Payne, Matt Meola, Kai Barger, Granger Larson, Kain Daly, and Makana Eleogram all sitting on the Green Trees peak. If you don't know, that would be a sizeable chunk of a "who's who" list of Best Maui Surfers.
III.
Surfing is a sport of confidence. Surfing is a unique sport and a not-so-unique sport. What is the "pitch," the "playing field," for a surfer? Is it the ocean? The lineup? A wave?
I would have to say that it is a wave. That is unique because no two waves are exactly alike and because the nature of waves is such that they move through space. Surfing might be the most futuristic sport in that regard. Few other sports harness irregular, moving "pitches." Even the zero gravity sport in Orson Scott Card's Ender's Game doesn't incorporate such a volatile, living pitch.
Regarding surfing, by paddling out to a break, the paddler is only getting close to the pitch. In paddling out, a potential surfer has not yet "surfed," they have only stretched and walked towards the pitch.
IV.
While living in South Korea, I played basketball in a large park located near my apartment. The court was outdoors and had no fences or other perimeter barriers to differentiate the court from the rest of the open park space. Basketball is not an overly popular sport in South Korea and thus there were many people who didn't recognize that while there is no action happening in the middle of a basketball court at one moment, there is certainly liable to be action there in the next moment. For players, this meant that sometimes when throwing an outlet pass, or attempting to run a fast break, there might be a mother walking a stroller across the court. Failing to abort a fast break is another bad way to kill a baby in a stroller.
V.
Regarding surfing, by paddling out to a break, the paddler is only getting close to the pitch.
America is a big country with more landlocked cities than beach cities. People in America are, on average, probably less knowledgeable about surfing than are South Koreans about basketball. As a surfer you are expected to know this. As a surfer you should also appreciate that your sport of choice is novelty to most of the world. Surfing is part of a vacation, hardly a vocation.
It is common to be surfing and see someone attempting to surf, or at least attempting to surf a given spot, for the first time. If someone paddles out and doesn't know what they are doing, they are likely to end up waiting, a good distance from the peak, and not catching a wave. If they don't know how to avoid it, the new surfer may simply wind up being forced back to the beach by breaking waves. If this new surfer, or "kook," does get to the lineup, they are not likely to know where to sit in order to catch a wave. They are also not likely to understand etiquette, including how to get out of the way of a surfer who has caught a wave and more generally how not to be in the way. These kooks are liable to find themselves at half-court with a baby stroller in the middle of a fast break.
Since the stroller and baby are metaphors, and the novice surfer is usually a male, that male is liable to be yelled at and occasionally struck by a blow, be it a board or a fist. Most people wouldn't walk into the Staples Center during a Laker practice, take the ball from Kobe Bryant and start taking shots while wearing roller blades. In surfing's vacational ethos though, this is a common occurrence. Surfing is a unique sport. The differentiation is different. It is a sport in nature. Security guards do not police breaks, so surfers police surf breaks themselves. Nobody paddles out wearing roller blades, so surfers must learn to read subtler cues in order to know who can and who can not surf. Confidence is a crucial factor in all of this. Etiquette offers clues and is connected to confidence. Equipment is another piece of the puzzle and is also connected to confidence. If you know the water, how to surf, and are confident in your ability and equipment, you can paddle out alone to most breaks and find yourself some good waves.
VI.
When I paddle out at a break, 99% of the time I am one of the 5 best surfers in the water. I have great confidence in my abilities. I generally have the luxury of cherry-picking good waves because I have taken my licks and earned that right. I have confidence.
I paddled out at Green Trees and I was not one of the 5 best surfers in the lineup. And the gap between my surfing and the surfing of the top 5 wasn't a secret. I grew up surfing contests with these surfers, so I said hello and shook hands with them once I got out. Giving dap is part of that confidence and is also a showing of respect. It is a surfing thing and a Hawaii thing.
It has been over 4 years since I have surfed a contest and therefore it has probably been that long since I paddled into a lineup and worried that unless I surfed well, the people in the water were going to be surfing better than I. I had forgotten what that feeling of inferiority was all about.
Don't get me wrong, I feel it in other areas every day, but surfing is my relief, is my escape, and is one of the things I feel best at in this life of mine. That session at Green Trees wasn't a fun session. When I watch a surf video, I think of the things I would do on a wave or think about whether I can do what a given surfer is doing on a wave. In that lineup of professional surfers, I watched them catch the good waves and do rodeo flips and backside air reverses, but there were no good waves for me. I caught the dregs and did what I could with them. Even on the good waves that I was effectively barred from catching, I would not have been able to do what my "peers" were doing. Thus the maneuvers I did on the bad waves felt doubly inferior and I ended my session feeling despondent.
The pitch is a finite resource in surfing, so to be the best in the lineup you must not only have the ability on the pitch but also the ability to get on an idyllic pitch.
VII.
I don't know how to start talking about Kelly Slater other than by offering some statistics and comparisons.
Kelly Slater became the youngest ASP world tour champion in 1992.
Kelly Slater became the oldest ASP world tour champion in 2011. He was 39 years old.
Kelly Slater is also the second-oldest ASP champion.
Kelly Slater was the first surfer ever to post a perfect heat score of 20, achieved by scoring two perfect 10-point waves in one heat.
Kelly Slater has been ASP champion 11 times. The second most decorated surfer retired with 4 titles. Kelly Slater has come in second place at least four times and of his 22 years on tour, 16 of those years have been spent in the top five (during some of those "non top-five years," Kelly wasn't really on tour, rather he was cherry picking a few of his favorite contests and embracing more free-surfing).
Kelly Slater has 54 World Championship Tour wins overall.
Kelly Slater's run of five consecutive titles is also a record.
Kelly Slater also won the Quicksilver Big Wave Invitational in memory of Eddie Aikau, which is one of the premier big-wave contests in the world. Few surfers from the ASP tour are even invited to participate this big-wave contest which is generally reserved for those surfers who specialize in big-wave surfing.
Kelly Slater 2008 Kelly won 6 of the 11 contests on the World Championship Tour. The winners of the last two championships managed only one win per year. Kelly won three contests in each of the last two years. That means Kelly won two more contests than the overall winners in each of the last two years.
Kelly Slater and others have said that there should be a set of 3-4 "Majors" for surfing as with tennis and golf. His suggestions for those contests include Pipeline, Teahupo'o, Fiji, and J-Bay. Were those counted as Majors, Kelly would have 19 majors to his name. The number 19 is suppressed because the Tahiti contest began in 1999, seven years after Kelly won his first title, the J-Bay contest began in 1996, four years after Kelly's first title, and the Fiji Pro's history eludes my research tentacles, but eliminating at least 11 potential Major competitions suppresses Kelly's total Major tally.
VIII.
In comparing Kelly to top male athletes in other professional sports, we might try Tiger Woods. Woods has won PGA player of the year 11 times, his most recent coming in 2013 when Woods again failed to win a Major. Woods has won 14 majors but hasn't won a Major since the 2008 US Open. Woods is 38 years old and doesn't look like he will win many more golf tournaments.
We might try Roger Federer. Federer has 17 Majors, the most for any man. Federer is 33 years old and is having so much trouble winning an 18th that many feel he is done winning majors.
Or we could try Jack Nicklaus, who has 18 Majors, the most in golf history. Nicklaus played golf and played it during a different era and is often left out of best athlete conversations. Or Wayne Gretzky, who won 9 NHL MVP titles in a team sport where the MVP is at least partially subjective. Michael Phelps has won 18 Olympic gold medals for swimming. Swimming is the only sport with enough events to amass such a total and there is no surfing in the Olympics. Usain Bolt has won 4 Olympic gold medals for running. Sachin Tendulkar and his cricket batting could be introduced.
I could offer comparisons between the top athletes in each sport as compared with their next closest competitor in the same sport and then compare the difference in achievement across sports. But would that tell the whole, objective story? Within a single sport comparisons of different eras can be difficult due to rule changes and level of competition, among other things. Just ask LeBron James, Michael Jordan, and Bill Russell. Different readers follow different sports and there will never be any clean, objective way to say whom the best male athlete ever is, was, or will be.
IX.
On the final day of the Tahiti pro this year, something amazing happened. The WCT is know as "The Dream Tour" because it is supposed to bring the best surfers on the planet to the best waves on the planet. The tricky part is that waves are not always cooperative and just because a break has the potential to generate world-class waves does not mean it will manifest those waves to coincide with the windows of contest run dates.
At this year's WCT in Tahiti, especially on the final day of the contest, the best surfers in the world were surfing a break that had what were probably the best waves on all of planet earth for those 24 hours. I don't know that that has ever happened in the history of competitive surfing. The best waves on earth that day were the very waves that Kelly Slater was surfing. And he surfed them better than anyone. Gabriel Medina, who was not yet born when Kelly won his first title, ended up beating Kelly in the final. But if you ask me, Medina was the third best surfer in that contest. Kelly Slater and John John Florence (JJF) were the two best. Then, maybe, Gabriel Medina.
Draws are made by judges using current standings so viewers  watched one of the best semi-finals in the history of surfing which saw Kelly barely edge JJF. On each successive barrel the two surfers seemingly went deeper, and remained "behind the curtain" longer.
Both surfers are regular footed, meaning that they must figure out ways to stall in these massive barrels while their backs are to the wave. That involves dragging butts, hands, and arms. For Kelly that meant riding high in the barrel, higher than anyone else on earth, in order to stay above the foam ball. He crouched on his board, deep inside the barrel, before being shot out by foam spitting from the mouths of these giants. Kelly and JJF are so at-home in barrels that they happily stall in them in order to get deeper and remain hidden for longer, despite the fact that this break has caused at least 5 fatalities since 2000. And again, these were some of the best waves a WCT contest has ever seen. The 30-minute heat those two surfed could be made into its own surf video.
That semi-final came before a let-down of a final which saw Medina, the goofy footer, riding front-side through barrels like Ichabod Crane fleeing from the Headless Horsemen. Kelly committed some uncharacteristic blunders before being seemingly underscored on waves that he, yet again, rode as well as anyone on earth could hope to ride them. In the end, it seemed Medina was rewarded for the size of his waves and not penalized the frightened way he rode them, while Kelly's waves garnered lower scores than in the previous heat.
X.
This article isn't about whether you think someone else is definitively the best male athlete ever, or whether you think there could even ever be one. I do believe, however, that Kelly Slater should be discussed in any conversation on the subject. I believe this because of what Kelly has accomplished and continues to accomplish, for his longevity, for his durability, for his competitive drive, for being the best athlete in his sport for more than 22 years, and for his conviction.
Conviction because that is what it takes to paddle into a lineup with the best in the world, the sharks of the surfing world and literal sharks. Conviction is what it takes to paddle out at Teahupo'o, or Pipeline, or Waimea Bay and beat the best in the world. Conviction is necessary when paddling into some of the heaviest and most dangerous waves the ocean can generate, when pulling into subterranean monster barrels, when getting deeper in them than anyone, when taking lines that nobody has ever taken, and coming out looking like making it out was never a question. I guess if he is doing all of that, the fact that Kelly now does all of that against surfers who weren't even born the first time he won a World Title might not matter much.
Age seems to catch everyone but Kelly. One challenge of ageing is seeing someone younger and believing that they are improving while I am declining. Kelly must have been told how old he is quite a few times now. Kelly knows how much younger John John is, knows how much hype the young man is generating, but he has the conviction to will it out of his consciousness. Or at least to will himself back into a hype competition with John John. There are countless things to attribute the duration Kelly's apex to, but I'm still leaning towards his conviction.
XI.
I, a young man supposedly in his prime, couldn't summon the conviction to challenge some of Maui's best, who are younger than I, in order to catch one of the best waves on a good day at a decent break. Kelly at 41 years old has the conviction to defeat John John in his prime in the final of the Pipe Masters (JJF's home break). I can't come close to imagining the health, the mental fortitude, the drive, the ability, or the dedication, that it would take to be the best in the world at something for an entire year. Kelly has been doing that for 22 years.
At 42 years old and heading into the final contest of the year, Kelly Slater is in the hunt for a 12th World Title. Again. At 42 years old, Kelly Slater just did this: