On Attending the Golden State Warriors' Championship Parade in Oakland
---
You're supposed to be scared when you go to Oakland. You should probably never get on an Oakland-bound train. I have been given a million pieces of evidence to back up those statements. A few examples being: First, I've heard of the movie Fruitvale Station. Second, the first time I personally visited Oakland was alone, to see a show starring Mos Def and Erykah Badu. I was living with my aunt at the time and she encouraged me to get out of her house for just about any reason. But when I told her my plan to go to Oakland, she said that she didn't think my taking Bart to Oakland for a show at an unfamiliar venue was a good idea. Third, every time I said "I'm going to the warriors parade" to someone, they always responded with some iteration of the response "don't get mugged."
Today, as with the Mos Def show, I feel compelled to go to Oakland alone. I feel torn today too. Unlike with the Mos Def show, today's tearing has nothing to do with being alone or the dangers supposedly associated with a trip to Oakland. Since that first trip, I have learned to love Oakland to the extent that if Oakland were considered a 'district' in the Bay Area, it would be my second favorite, after the Mission district. I have never felt unsafe in Oakland. My wavering, thus, takes root in different soil.
Now that the NBA finals have culminated with a Golden State Warrior championship, the 67 wins and all the 'best team in basketball' talk makes the win feel preordained. That's the way it goes though. You can see the signs and foreshadowing once the outcome has been decided, hindsight being 20/20.
During a year when a team you follow is winning a championship, there is a lot of rhetoric regarding fandom. You hear that "the warriors have the best fans in the world" nearly as often as you hear God praised after a win (In a win, it is all about God, Mom and Dad, and The Fans. Shout-out to Andre "Iggy" Iguodala for praising chaplains: "I want to thank all the chaplains across the NBA for helping us out every single night." Usually praise goes straight to God, but Iggy wanted to thank the conduit. A down-to-earth comment if ever there was one).
This season, the Warriors were almost exclusively hooking herrings of colors other than red, thereby foreshadowing their eventual (now present) championship (67 wins, 39 and 2 home record, this season's NBA MVP plays point guard). During this run, I repeatedly heard politicians from Dub Nation's capital applauding "the best fans in the NBA." Whether it was Steph Curry or Draymond Green, someone was constantly reminding me about the fans that stuck with the Warriors through 40 down years.
In my mind, that refrain started to dovetail with another Warrior mantra: "buying in." Andre Iguodala had to "buy in" to the coaching staff's decision to bring Iguodala off of the bench, rather than having him start, for the first time in his career. David Lee had to "buy in" to being on the bench for entire games. Bogut had to "buy in" to being benched for all but three minutes of the final three games of the NBA Finals. What are these players buying?
They are getting paid to sit courtside. That is a grotesque forgery of these players' hypothetical reactions, but is nevertheless one way of looking at things. The players must "buy in" to hurting their potential future earnings, might be one contestation. That line of reasoning would probably say that their future earnings suffer by being relegated to the bench. But everyone wants a championship, so I don't believe that line. "Championship Pedigree" is sometimes used as a reason when teams acquire players as "veteran presences in the locker room." Championship Pedigree gets players into the Hall of Fame. Championship Pedigree got Steve Kerr his first head-coaching job and Kerr's pedigree garners enough respect that Iguodala turned around and used it as his reason for "buying in" to Kerr's decision to bring him off of the bench. So I don't think being on the bench for a contender as deep as the Warriors is really a bad thing.
Another reason I don't like the language of "buying in" is because the people buying gear and attending games are really the ones buying. Fans are buying tickets, merchandise, $12 beers, and goods sponsored by players featured in commercials seen during games those players are playing in. There is a reason fans are also called supporters. Fans own no stock. They aren't "buying in" because they can't profit. Their monetary investments pay no dividends. Fans receive confirmation from The Nation's capital that they are "the best fans in the world" and are told on T-shirts that they paid for the privilege of wearing that there is "strength in numbers." Those assurances are the only "things" that fans receive (Andrew Bogut said, in his interview after the victory parade, which was attended by "hundreds of thousands," that the championship would be good for the economy of Oakland. That's consolation only if Bogut's fiscal interpretation of the situation, empowered by the two years he spent at the University of Utah, can be trusted.)
All of that poses some problems for me:
First, while the fandom rhetoric is supposed to be inclusive, I generally self-identify as an outsider, so I usually imagine that those praises aren't for me. In this situation it is especially easy to feel like an outsider because I had never been to a Warriors game until 2014.
I also feel inferior because I didn't always live in the "Bay Area." My grandma is my proudest tie to Bay Area sports. She should be a legendary Bay Area sports fan. My dream-memory tells me that she sat through the 1989 "Earthquake Game." Before I moved to the Bay Area, she would take me to Candlestick Park for Giants' games every time I visited. My grandmother loves the Giants more than anything, certainly more than any other sports team. Grandma's next favorite team is the entire sport of baseball. Then it would probably be the 49ers. Then it might be a tie between the San Jose Sharks and the Golden State Warriors. I grew up getting Barry Bonds playing cards as presents, and never heard a peep about the Warriors. She doesn't love basketball. Feeling like a bandwagon-er jumping on the train at the last second comes easy to me.
My second problem finds further fuel in this quote from Steve Kerr: "I remember coming into Oracle as a player year after year, playing against lousy teams and the fans were there every single year." That quote brings to mind several questions. Is Steve Kerr a bandwagon-er? He used to play against the Warriors. He might be more of a bandwagon fan than me. But maybe he isn't a fan. Perhaps being a coach puts him in a linguistic box completely distinct from fandom. Maybe players and coaches exist as separate from the sphere of fandom. Or are fans listening to Kerr's postgame press conference supposed to think that Kerr has been a fan of the fans for all these years? That would make his position not wholly seperate from the fans while still enabling him not to be the last passenger on the Dub Train.
Another problem underscored in Kerr's quote comes in relation to the rhetoric of fandom: "the fans [my emphasis]." What fans? These ones: "One of the great scenes for me was standing up on that stage and hearing the 'Warriors' chant from, I don't know, 50 yellow-clad Warriors fans behind us… Representing Dub Nation"? It sounds like those 50 fans in Cleveland, through some transitive power of representative fandom, can be equated to the fans that filled Oracle arena when Kerr came as a player. It sounds as though there is value in the pride and dedication shown by the specific group of fans that sat through a 40-year championship drought, while at the same time a fan is a fan is a fan. As it is only one word, the people who may have started watching the Warriors this year and call themselves "fans" can slip into the pool of "dedicated fans" because there is no means of, nor desire to, police that con. Slippages abound and Roland Barthes, or Lacan, or Slavoj Zizek, or someone, must be furious about these linguistic manipulations. Or maybe they too are fans of athleticism.
"Fan" is purely theoretical. "Fan" is a word. It is only almost a person. There are "fan bases," which are also nothing more than words, albeit routinely gargled in rich mouths. "Team" may be a more transparent fraud at least. A team, the "Warriors," is just a name. The building the Warriors play in changes, players change, owners change, coaches change. The solidity, the uniformity, the whole thing, is a farce. And it is a complicated ruse. "The team" is built up as a single, monolithic thing, a realization which completes the circle back to an earlier question: what is the nature of the relationship between a "team," with its rotating cast of coaches and players, and "the fans" of that team? I think it would be more accurate to simply refer to "the team" as "the brand." But brands don't sound human, and maybe "the fans" would balk at buying along brand lines more than they do at "supporting their team." To make people feel included, to encourage them to buy clothes and go to games, they need the monolithic status of "fandom" that enables their feeling like they have been here all along. But they probably weren't or they would make a bigger fuss about the inflated ticket and concession prices.
In spite of the above problems surrounding the idea of fandom, my personal fandom, and in spite of the supposed dangers of boarding a train to Oakland, for some reason I find myself wearing Warriors gear and getting on a Pittsburg/Bay Point Train that will let me off in Oakland. For the Golden State Warriors' championship parade. But why?
I must be excited or I wouldn't be getting on the train to Oakland.
I wouldn't turn on the TV if I knew my team is going to lose. For the last few years, Steve Kerr and I thought of Golden State. The Warriors are no longer an afterthought. Possibly for the first time in our careers. The Warriors are playing and winning. And that's worth watching.
I'm not the type of person that takes pride in being a "tortured fan." I will, however, celebrate the unthinkable, and I will die believing that Baron Davis shot 45% from three for his career and averaged 25 points a game on 54% from the field just like he did in 2007 against the 1st seed Dallas Mavericks (stats from basketball-reference.com). Maybe I believe in the irrational. Maybe I believe in the slippages. Maybe I am a fan. Maybe I'm not the kind of fan that has been rooting for 40 years, because I haven't been alive that long. Maybe I'm the kind of fan that cheers for hard work and success. Maybe I'm the kind that sometimes ignores failure and incompetence because I'm too lazy to boo. In spite of my feeling torn, apparently I am the type of fan that will get on the train to Oakland when I think it might be worth it.
And today, with the champions gathered, I know it will be.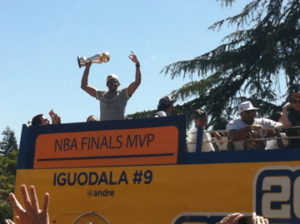 Iggy with his Finals MVP trophy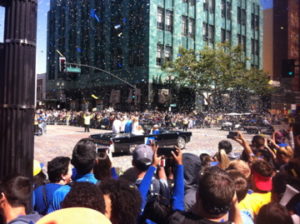 Steve Kerr and the throngs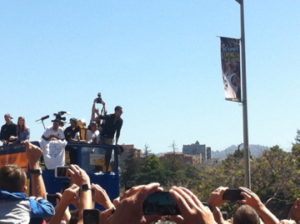 Steph Curry and the Larry O'Brien Championship Trophy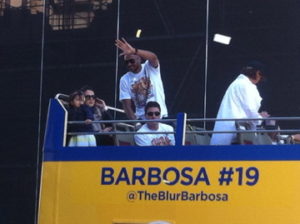 Leandro Barbosa and his finger-roll